Julie, one of my Senior Models, is a flyer for the Coeur d'Alene High School Cheer-leading team.  After learning of her years of training in gymnastics I knew I had to talk her into doing a gymnastics photo shoot, it was not a hard sell!  For a few months now I have been testing out equipment from Interfit Photographic, I have pretended to patiently wait for the brand new Interfit S1 to be available for testing.  Now after chomping at the bit for months I finally had two units in my possession and this shoot would be a great way to test them out.
(To find out more about why I was testing this gear check out this blog post)
Julie talked to her gym, Avant Coeur Gynmastics, and we found a time that we could use the gym without getting in anyone's way.  My main goal with this shoot was to capture Julie in action. Since the vault is her favorite event that is where we decided to start.  I set up five lights, the two Interfit S1 strobes were set up as my main lights,  Camera left I had one with a 47″ gridded Octa, camera right was a 35″ gridded octa.   For my rim lights I used two Einsteins with 7″ reflectors and 30 degree grids and to light the gym I used an 11″ reflector with a blue gel.  Because of all of the equipment in the gym there were many limitations to where we could place our lights I found what I thought was our best option and we shot some wide angle from right under the vault first and then a longer focal length from a distance.
Here is behind the scenes video I put together showing the capturing of the first image:

Next we moved on to get some photos of her on the floor.  For these shots I used the two S1's with the standard reflectors and 30 degree grids pointing straight at her front and back.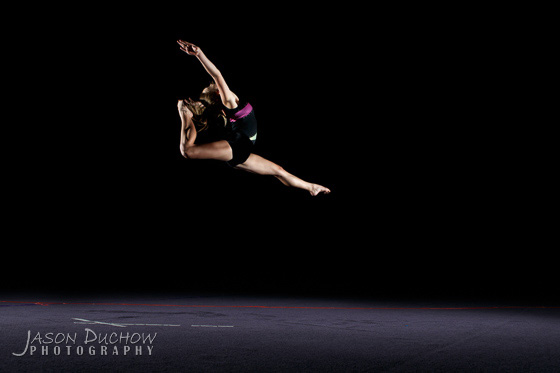 After the floor we were starting to run out of time so we started to move more quickly, first setting the high bar.  This time it was two S1 units with the same octa boxes and the two Einsteins with reflectors and 30 degree grids for rim lighting.
Then the uneven bars, finding a good safe angle with good angles for the light was hard so I went with the a high angle.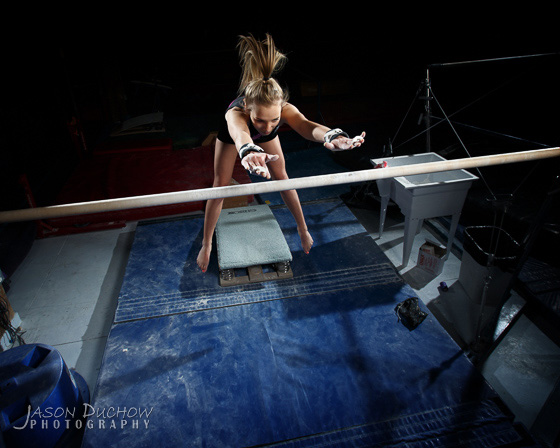 I know the classic chalk photo is common, but it would not be a complete test of the new light without it.  For these we used a 47″ gridded octa camera left as the main and a standard reflector with 30 degree grid for the rim light camera right.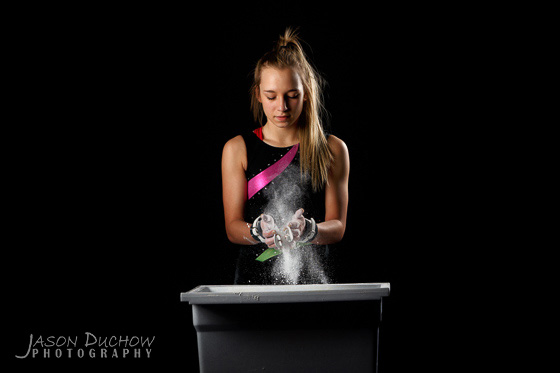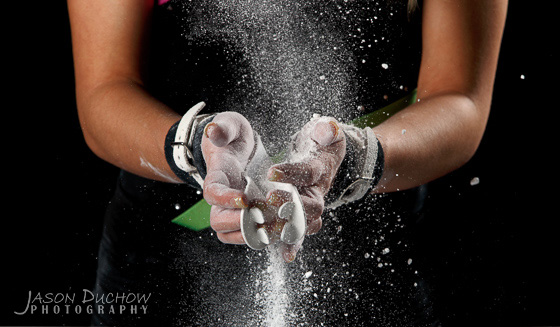 We concluded in the gym with some still portraits.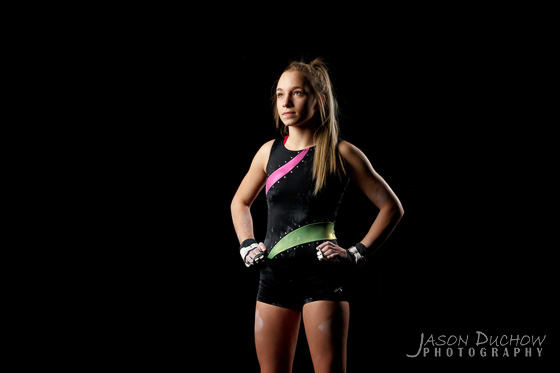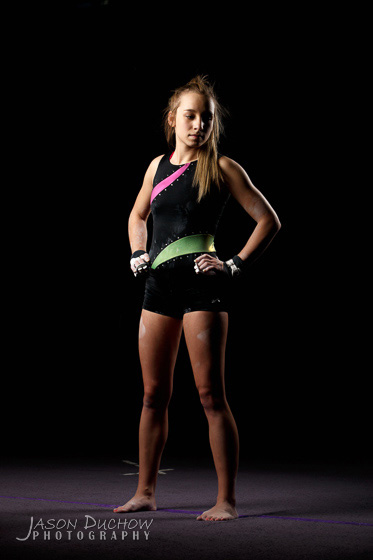 After we were done at the gym we had time to do a quite outdoor shoot.  Since it was February in North Idaho I had hoped for some snow for our outdoor time, but that was not happening.  Without snow most places around here are not very pretty, the grass is brown the trees are barren and it is chilly.  After trying to find a place that would work we defaulted to what I knew would do the trick, sunset portraits next to Lake Coeur d'Alene.   It was very chilly so my goal was to work quickly, get some good photos for Julie, test the High Speed Sync (HSS) and call it good.  We started out with some portraits with the standard sync speed.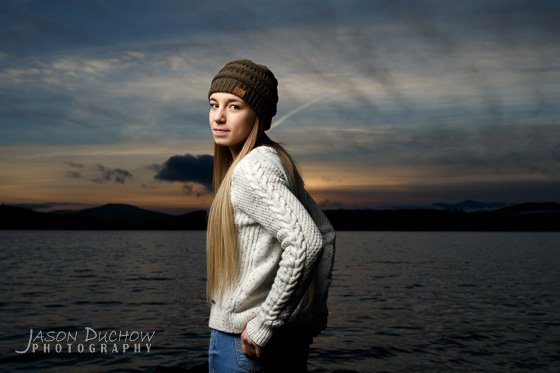 Then we switched up to HSS.  All in all I found the color accuracy of the lights to be consistent, I did see that when we changed from standard sync to High Speed Sync the color between the two settings was slightly different but I the color in my shots was consistent in each mode.  It was just when you compared the standard to the HSS that I notice the slight difference.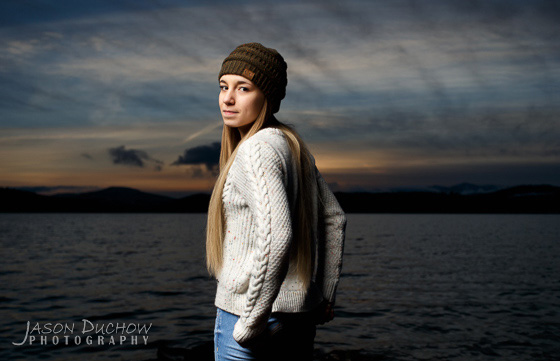 After this first round of portraits with the Interfit S1 I am very pleased with the performance of the light.  I really love the simplicity of set up and the fact that I no longer need to deal with cables and external batteries.  After this test I was convinced that this light would be a great fit for my workflow and that I could comfortably make the switch from my PCB lights to the S1.  The hard part has been waiting for the weather to get better so I can get out and shoot more outdoor portraits, thankfully the weather is turning and the outdoor portrait season is right around the corner!
Jason Duchow Photography is located in Oldtown, Idaho and does on location portraiture throughout Northern Idaho and Eastern Washington.   Jason specializes in environmental portrait photography often with the use of  dramatic lighting techniques and is also known for his freelance sports photography work.  Jason is also a Sponsored Pro for Interfit Photographic (http://interfitphotographic.com/)
https://www.jasonduchowphotography.com/wp-content/uploads/2016/04/Jason-Duchow-Photography-fe-.jpg
448
560
Jason Duchow
http://www.jasonduchowphotography.com/wp-content/uploads/2014/06/jason_duchow_photo_logo.png
Jason Duchow
2016-04-05 23:28:23
2016-04-06 19:19:10
Gymnastics Photo Shoot with the Interfit S1