After taking over 100,000 photos and spending 150-200 hours editing, the 2015 Idaho State Dance and Cheer Competition galleries are finally finished!   I knew that covering this event was going to mean two very long days of photography and many hours of editing, but I did not expect it to take me a month and a half before I could finally write this blog post.  Now after going through the thousands of shots I culled it down to just under 31,000 photos to edit and publish.  I have a few things to say about the event and the work that went into covering it, but first let me mention that I am offering a screaming great deal on the photos from the event so if you were a competitor, parent or grandparent of a competitor please keep reading for the details.  
In my years of sports photography I have captured images of dance teams and cheerleaders at many different sporting events but this spring I had my first taste of the competitive side dance and cheer.   With most sports there are moments of peak action and often there is one or more athlete involved in that peak action.  I watch for those moments and react to them in an attempt to capture an image or series of images that are compelling and interesting.  Most often these moments are somewhat predictable and the better you know the sport the easier it is to follow and anticipate what is going to happen.  Even with sports like Soccer and Lacrosse where there is constant play there is plenty of time in between peak action when I am not taking photos.  Dance and Cheer, on the other hand, is not like that at all.
The official rules of the dance routines state that the routine has to be 2-3 minutes long.  For Cheer three out of the four kinds of routines of have a maximum time limit of 1 minutes and the show routines have a maximum time limit of 2 minutes and 30 seconds.  My goal at an event like this is to capture at least one or more great images of every single dancer or cheerleader but the tricky thing is I only have 1 to 3 minutes to make sure that happens.  This is in no way an easy task; it means holding my camera to my eye constantly scanning the court back and forth and firing away like a mad man trying to make sure that during every pass I at least attempt to photograph every performer.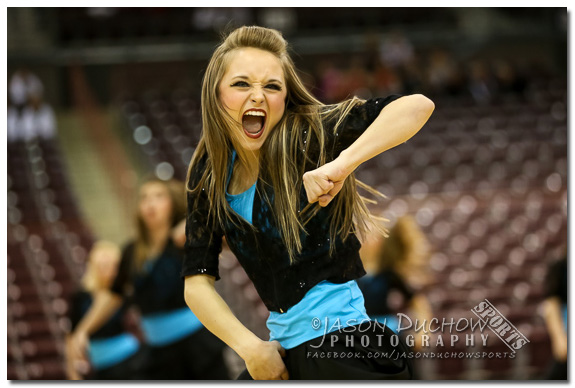 One thing that I did to help capture as many images as possible was to set up a remote camera with a wide angle lens. This camera was triggered by a remote placed on the camera in my hand which allowed me to get close up shots and wide angle shots at the same time.  Here is an example of how I was able to isolate a single cheerleader in midair with one camera while also capturing the entire context of the moment with my remotely triggered camera.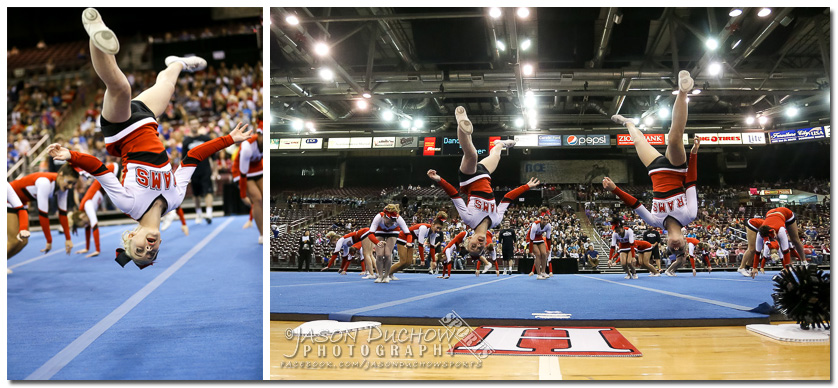 Since this was my first ever Dance and Cheer competition I was so very grateful for how helpful the event coordinators were to work with.  Julie Hammons, the Event Director and Lisa Hahle, the Co-Event Director were genuinely glad to have me there and were so very helpful to me.  I also enjoyed the fleeting moments between routines when I was able to chat with the judges.  I learned a lot from them which in turn helped me to do a better job behind the camera.
I really enjoyed being a part of the event and I would love to cover it again in the future but now it is time to see if the hundreds of hours I have spent on the project were a worthwhile investment and whether or not covering it again in the future is a viable business decision.   If you or someone you love was a part of this event and you think this was a worthwhile use of my time you can cast your vote by placing an order for prints or digital copies.  As I mentioned in the opening paragraph I also have a super great, all inclusive digital package that may be the best value I have ever offered. You can check out the details for that below.
All Inclusive Digital Package
For the 2015 State Dance and Cheer competition I am offering all of the photos of your dance or cheer team's competitions and awards as a digital download for only $199.  This download link for the photos can be shared with every member of your team so that means that everyone on the team gets to have their own copies to keep and treasure forever.  You can split the cost between teammates or purchase the package as a gift to share with your team.   Below you will find a link to view all of the photo galleries on my website where you can view and order individual photos as well as a link to purchase the complete package.  If you have any questions or need any assistance you can contact me through the contact link at the top of the page.
Now for some more images from the competition
https://www.jasonduchowphotography.com/wp-content/uploads/2015/05/20150321-JD2_0890.jpg
388
575
Jason Duchow
http://www.jasonduchowphotography.com/wp-content/uploads/2014/06/jason_duchow_photo_logo.png
Jason Duchow
2015-05-09 08:56:48
2015-05-10 03:24:58
2015 Idaho State Dance and Cheer Competition