I have long wanted to do some portraits on the Oregon Coast and finally this year during spring break I had the opportunity to do some destination senior sessions with three of my Class of 2016 Senior Models.  My first session was with Faith, an upcoming senior from Lakeland High School.  I have had my eye on faith as a senior model since the basketball season of her freshman year.  Faith is one of the friendliest people I have ever met, every time I would be at a Lakeland basketball game she would seemingly go out of her way to make sure to say hi and give me a huge smile.  Not only was she engaging in person but she was also always very active with the content I would post on social media, this of coruse is very helpful when you want people to see your photos online!  Finally, after three years of waiting I was able to invite her to be a part of my team of senior models and she agreed without hesitation!
We started out our session at Ecola State Park located between Seaside and Cannon Beach.  Before we could make it to the beach we had to stop and get a few shots in moss covered trees.
Then onward to the beach.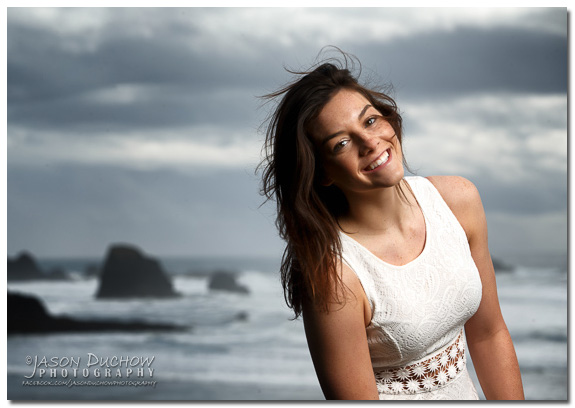 After spending some time on the water we headed back to Seaside to grab some lunch.  After lunch we visited a location that I knew would be perfect for some photos with Faith, the Seaside Carousel Mall.
On the previous photos I used a fast shutter speed so that everything was crisp and sharp, but I also wanted to do some photos where you had the sense of the motion of the carosel so I used a technique called "Panning".  For this technique you have to use a slow shutter speed and move the camera along with the motion of your subject.  This technique is often used with car and bicycle racing but I wanted to employ it here for a portrait.  The goal is to get motion blur on most of the objects in the photo while still having your main subject be relatively sharp, here is one of my favorite takes using this method.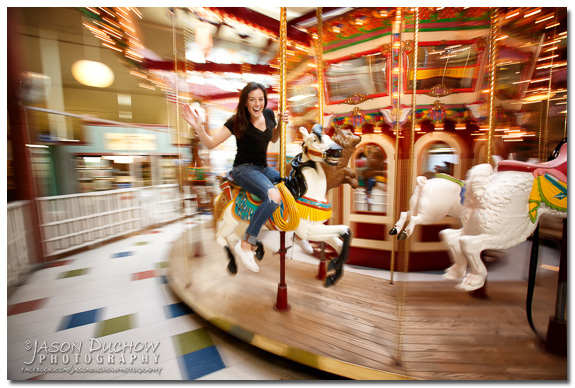 We finished up in the mall with a few still portraits and a some laughs.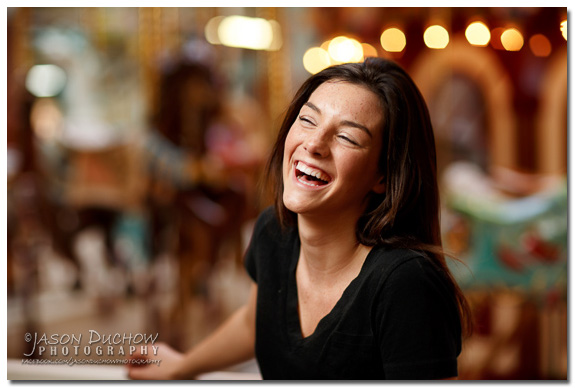 After the Mall we walked around Seaside a bit and found a few spots around town.
With evening approaching we headed back to Ecola State Park to get the beginning of sunset.
Then, for our final photos of the day we found ourselves at Cannon Beach.
I am so glad that I had the opportunity to spend the day with Faith we had a great time and we ended up with some fun and beautiful images and hopefully some great memories as well!
Jason Duchow Photography is located in Oldtown, Idaho and does on location portraiture throughout Northern Idaho and Eastern Washington.   Jason specializes in environmental portrait photography often with the use of  dramatic lighting techniques and is also known for his freelance sports photography work for www.idahosports.com, The Coeur d'Alene Press, The Bonner County Daily Bee, Priest River Times, Newport Miner, Living Local and a handful of other newspapers and publications.
http://www.jasonduchowphotography.com/wp-content/uploads/2015/06/Jason-Duchow-Photography-fe-1.jpg
549
960
Jason Duchow
http://www.jasonduchowphotography.com/wp-content/uploads/2014/06/jason_duchow_photo_logo.png
Jason Duchow
2015-06-10 19:07:52
2015-06-10 19:13:42
Faith - Destination Senior Portraits